Prilling Nitrates
A far superior alternative to granulation.
Wealth of experience
One of the markets in which we have operated for decades is the fertilizer market. You can benefit from our knowledge and experience in this area when it comes to prilling ammonium nitrate.
Want to know more about the ammonium nitrate prilling process? Our prilling experts would be pleased to answer your questions about prilling ammonium nitrate or prilled ammonium nitrate.
For more information about the main principles of prilling, please read the following knowledge article: prilling meaning and prill definition.
Prilling is particularly well suited for the following nitrates and other substances:
Ammonium nitrate
Sodium nitrate
Potassium nitrate
Calcium nitrate
Magnesium nitrate
Mono-ammonium phosphate / mono-potassium phosphate
Potassium nitrate
Potassium sulphate
Absolute prilling authority
Kreber designs, constructs and maintains high-quality prilling equipment for international chemical companies. With more than 50 years of experience, an impressive track record and a top team of researchers and engineers, we can be called an absolute authority in the field of prilling.

Prilled ammonium nitrate in bulk offers significant advantages:
Excellent 'free flowing' properties
Low tendency to stick and agglomerate
Distinguished for air lifting
Highly resistant to abrasion and damage
Minimal dust formation
Excellent for storage in silo installations
Precise dosage
No additives needed; pure materials
Prilling nitrates:
more control, more profit
Prilling ammonium nitrate offers the following advantages over other solidification methods such as granulation:
Prilling is one of the most economical finishing technologies in the world for large outputs. Compared with other solidification methods such as granulation and pastillation, CAPEX and OPEX will be multiple times lower at increased capacities.
Prilling makes it easy to scale up or down capacity in a range of 70-110% of the original design capacity. That makes it an extremely flexible part of your total production process. Quickly adapt to changes in the market? With prilling you can.
The high degree of 'self-control' makes prilling a robust finishing technology with a very stable processing procedure. It can therefore play a vital role in guaranteeing the continuity of your process and quality of your product.
The prilling process requires minimal energy consumption. In fact: it is the most energy-efficient solidification technology available. This helps you to minimize your operational expenses.
Prilling equipment is easy to operate. Due well defined process operating parameters and small number of equipment items. As a result you benefit from low operating and maintenance costs.
With the design of our prilling tower and additional prilling equipment, you benefit from a relatively small footprint compared to other solidification technologies.
Thanks to a constant stream of technical innovations, such as state-of-the-art air inlet filtration and scrubber technologies, prilling is now a much cleaner finishing technology than it ever has been.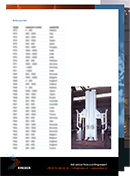 Reference list
Over the years, we have built up an impressive track record. Get your copy of our ever-growing prilling reference list.